Sobre nosotros
Veg World India te ofrece la más exquisita variedad de Vegetariana que puedes encontrar en Barcelona. Ven a visitarnos o haz tu pedido online. Verás como te sorprenderemos con nuestras especialidades.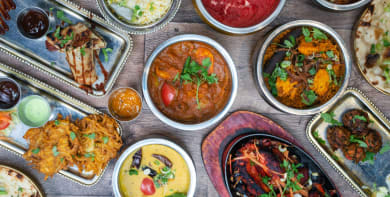 Opiniones
29 comentarios
Nicholas
"La mejor comida de Gracia!"
23/05/2020
Francesca
"El chico de la entrega ha estado super agradable⭐"
12/05/2020
Joby
"Very good vegetarian Indian food. Definitely one of my favourite in Barcelona. I order from here frequently and the food is good every single time."
05/05/2020
Menú
Tandoori Aloo
Patata farcida de carcida i formatge vegà
Patata rellena de carnita y queso vegano
Stuffed potato with veg meat and vegan cheese
10,95 €
Veg Kebab
Salsitxa vegetal
Salchicha vegetal
Vegetable kebab
10,95 €
Tandoori Paneer Tikka
Formatge fresc macerat
Queso fresco macerado
Marinated fresh cheese
11,95 €
Tandoori Mushroom
Xampinyons macerat
Queso fresco macerado
Marinated mushroom
10,95 €
Veg Pakora
Croquetes de verdures
Croquetas de verdura
Vegetables croquettes
6,50 €
Pani Puri
Bolitas de pan frito rellena de patatas y garbanzos con agua aromatica
Boletes de pa freigit farcides de patata i cigro amb aigua aromatizada
Filled bread dishes stuffed with potatoes and garbanzos with aromatic water
8,95 €
Mushrooms Chilli
Champiñones crujiente con cebolla y pimiento
Xampinyons cruixent amb ceba i pebrots
Mushrooms crispy with onions and peppers
8,95 €
Onion Baji
Croquetes de ceba
Croquetas de cebolla
Croquettes of onion
6,50 €
Samosa
Empanada de patata i pèsols
Empanada de patata y guisantes
Potato pie and peas
6,50 €
Panner Pakora
Formatge fresc arrebossat i fregit
Queso rebozado y frito
Soft cheese dipped in batter and fried
6,95 €
Baingan Pakora
Alberginía arebossada
Berenjena rebozada
Eggplant dipped in batter and fried
6,50 €
Aloo Tikki
Croqueta de patata
Croquetas de patata
Potato croquetes
6,95 €
Mixte d'Entrants (Per a 2)
Mixed starter (for 2) / Mixto de entrantes (para 2)
12,95 €
Chili Panner
Formatge fresc amb pebrot i ceba
Queso fresco con pimiento y cebolla
Fresh cheese with pepper and onion
8,95 €
Papri Chat
Cigrons, patata, pa fregit i iogurt
Patata, pan frito y yogur
Chickpeas, potato, fried bread and yoghourt
8,95 €
Torrades amb Humus
Paté de cigrons
Paté de garbanzos
Chickpeas cream
7,50 €
Sopa del Día
Sopa del día
Soup of the day
6,95 €
Amanida del Bufete
Ensalada del bufete / Buffete salad
8,95 €
White Rice
Arròs blanc
Arroz blanco
4,95 €
Pilaw Rice
Amb pèssols i comi
Con guisantes y comino
With peas and cumin
5,95 €
Lemon Rice
Amb llimona
Con limón
5,95 €
Jeera Rice
Amb comi
Con comino
With cumin
5,95 €
Veg. Biryani
Arròs amb verdures i fruits secs
Arroz con verduras y frutos secos
Rice with vegetables and dry fruits
10,95 €
Pastanaga
Zanahoria
Carrot
5,95 €
Llima + Menta
Lima + menta
Lime + mint
5,95 €
Maracuya
Maracuyá
Passion fruit
5,95 €
Naranjilla (Lulo)
Exotic fruit
5,95 €
Pastanaga + Poma + Llimona
Zanahoria + manzana + limón
Carrot + aplle + lemon
5,95 €
Pastanaga + Api + Remolatxa + Gengibre
Zanahoria + apio + remolacha + jengibre
Celery + carrot + ginger + beet root
6,50 €
Salted Lassi: Batut de Iogurt i Espècies
Batido de yogur y especias
Yogurt shake with spices
5,75 €
Sweet Lassi: Batut de Iogurt i Sucre
Batido de yogur y azúcar
Yogurt sweet shake
5,75 €
Mango Lassi: Batut de Iogurt i Mango
Batido de yogur y mango
Yogurt and mango shake
5,95 €
Butter Nan
Amb con mantega / Con mantequilla / With butter
3,95 €
Garlic Nan
Pa amb all / Pan con ajo / Garlic bread
2,95 €
Cheese Nan
Pa amb formatge / Pan con queso / Cheese bread
3,95 €
Aloo Nan
Pa amb patata / Pan con patatas / Potato bread
3,75 €
Tandoori Paratha
Integral and mantega / Integral con mantequilla / Brown flour with butter
3,50 €
Tandori Roti
Amb farina integral / Con harina integral / Integral bread
1,95 €
Onion Kulcha
Amb ceba / Con cebolla / With onion
3,75 €
Pisawari Nan
Amb fruits secs i mango / Con frutos secos y mango / With dry fruits and mango
3,95 €
Pastis de Xocolata
Pastel de chocolate
Chocolate Cake
5,95 €
Pastis de Fruits Secs
Pastel de frutos secos
Nuts Cake
5,95 €
Gulab Jamun
Llet fregida
Leche frita
Fried milk
5,95 €
Mango Kulfi
Gelat de mango
Helado de mango
Mango ice cream
5,95 €
Rose Kulfi
Gelat d'aigua de roses
Helado de agua de rosas
Ice cream of Rose water
5,95 €
Kulfi
Gelat tradicional de l'India amb cardamom
Helado tradicional de La India con cardamomo
Traditional Indian ice cream with cardamon
5,95 €
Cerveza Cobra 0% (Cerveza de la India)
3,95 €
Thali, Plat Combinat de L'India (Per a 1 Persona)
Dhal (llegums), Sabji (verdures), Basmati rice (arròs), Pakora (bunyol), Chutny (salsa), raita (salsa de iogurt), nan (pà) + Postre
Dhal (legumbres), Sabji (verduras), Arroz basmati, Pakora (buñuelo), Chutny (salsa), Raita (salsa de yogurt), Nan (pan) + Postre
Dhal (lentils), Sabji (vegetables), Basmati rice, Pakora, Chutny (salsa), Raita (yogurt sauce), Nan (bread) + Dessert
18,95 €
Menú Degustació N°1 (Per a 2 Persones)
Entrants: Samosa, Onin bhaji + Pa Formatge
Plat: Tarka dall, Vegetable korma, Arròs blanc, G. Naan + Postre
Entrantes: Samosa, Onion bhaji + Pan de Queso
Plato: Tarka dhal, Veg. korma, Arroz blanco, G. Naan + Postre
Starters: Samosa, Onion Baji + Cheese Nan
Course: Tarka dhal, Veg. korma, White rice, G. Nan + Dessert
40,95 €
Menú Degustació N°2 (Per a 2 Persones)
Entrants: Samosa, Onion bhaji
Plat: Tandoori paneer tikka, Vegetable kebab, Pa Formatge, Dall Makhani, Bhindi bhaji, Arròs pilaw, Garlic naan + Postre i Chai
Entrantes: Samosa, Onion baji
Plato: Paneer tikka, Veg. kebab, Pan de Queso, Dhal Makhani, Bhindi baji, Arroz pilaw, Garlic Nan + Postre y Chai
Starters: Samosa, Onion bhaji
Plate: Tandoori, Paneer tikka, Veg. kebab, Cheese Nan, Dhal makhani, Bhindi baji, Rice pilaw, Garlic nan + Dessert and Chai
49,95 €
Raita
Salsa de iogurt amb cogombre, ceba i tomàquet
Salsa de yogur con pepinos, cebolla y tomate
Yogurt sauce with cucumber, onion and tomato
4,95 €
Malai Kofta
Mandonguilles de formatge i patatas amb salsa
Albóndigas de queso y patatas con salsa
Cheese and potatoes balls with sauce
10,95 €
Onion Dosa
Crêps de ceba amb samber i salsa de coco 
Crepes de cebolla con samber y salsa de coco
Onion crepes with samber and coconut sause
12,95 €
Masala Dosa
Crêps de patata amb salsa de coco i samber
Crepes de patata con samber y salsa de coco
Potato crepes with samber and coconut sause
12,95 €
Paneer Dosa
Crêpe de formatge fresc i patata amb salsa de coco i samber
Crepes de queso fresco y patata con coco y salsa samber
Crepes of fresh cheese and potato with coconut sause and samber
13,95 €
Samber Idly
Idly a base d'arròs al vapor, amb salsa de coco i samber
Idly a base de arroz al vapor, con salsa de coco y samber
Idy base of steam rice with coconut sause and samber
10,95 €
Channa Masala
Cigrons amb especies
Garbanzos con especias
Spicy cheakpeas
10,95 €
Dhal Tarka
Llegums llenties grogues
Legumbres lentejas amarillas
Yellow lentils legumes
10,95 €
Dalh Makhani
Llenties en salsa de nata i especies
Lentejas en salsa de nata y especias
Lentills with cream sauce and spices
10,95 €
Aloo Gobi
Patata amb coliflor
Patata con coliflor
Potato with caul flower al cury
10,95 €
Bombay Aloo
Patata cuita amb salsa de tomàquet i comi
Patata cocida con salsa de tomate y comino
Cooked potato with tomato sauce and cumin
10,95 €
Veg Jal Frezi
Verdures amb pebrot vermell, verd i xampinyions
Verduras con pimiento rojo, verde y champiñones
Vegetables with red, green pepper and mushrooms
10,95 €
Veg Korma
Verdures amb salsa de tomàquet, nata i fruits secs
Verduras con salsa tomate, leche de coco y frutos secos
Vegetables with tomato sauce, creama and dry fruits
10,95 €
Palak Kofta
Mandonguilles d'espinacs amb salsa
Albóndigas de espinacas con salsa y frutos secos
Spinach-balls with sauces
10,95 €
Tandoori Beigan Bartha
Albergínia cuita al tandoori amb salsa i especies
Berenjena cocida al tandoori con salsa y especias
Aubergine cooked in the tandoori with sauce and spices
10,95 €
Mushrooms Masala
Xampinyons amb ceba, tomàquet i especies
Champiñones con cebolla, tomate y especias
Mushrooms with onion, tomato and spices
10,95 €
Bhindi Baji
Verdura típica del'India, Okra
Verdura típica de la India, Okra
Okra, tipical indian vegetable, Okra
11,50 €
Punjabi Tinda
Verdura exótica típica del nord de l'India
Verdura exótica típica del norte de la India
North India exotic typical vegetable
10,95 €
Karela
Verdure amarga típica de l'India
Verdura amarga típica de la India
Tipical India bitter vegetable
10,95 €
Palak Panner
Amb espinacs
Queso fresco con espinacas
With spinach
10,95 €
Paneer Tikka Masala
A la brasa i amb salsa
Queso fresco a la brasa y con salsa
In oven & sauce
11,95 €
Paneer Makhani
Amb salsa i mantega
Queso fresco con salsa y mantequilla
With sauce and butter
10,95 €
Contacta con nosotros
Encuéntranos
Calle Bruniquer, 26, Barcelona, 08012
Horario de apertura
Por favor, ten en cuenta que el tiempo de entrega puede variar
Realizamos entregas en
08002, 08003, 08006, 08008, 08009, 08010, 08012, 08013, 08024, 08025, 08026, 08037, 08041